Robinsons Bank Payment Guide
Fill out the payment slip or access Robinsons Bank online and your loan payment is good to go!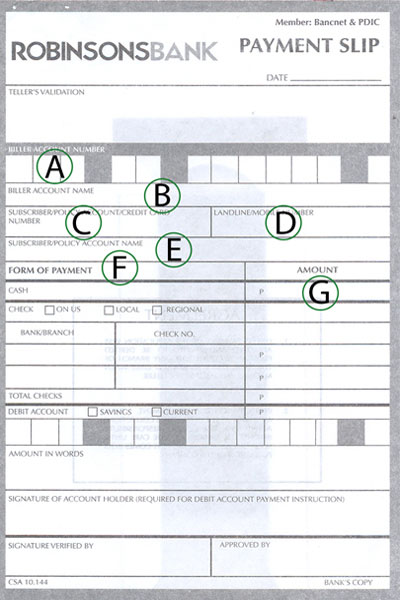 BILLS PAYMENT PROCEDURE FOR OVER THE COUNTER PAYMENT (Client Module)
PERPETUAL HELP COMMUNITY COOPERATIVE (PHCCI)
PHCCI payments now accepted at selected Robinson's Bank Branches.
Robinson's Place Dumaguete City, Negros Oriental
Robinson's Bank Bais City, Negros Oriental
Level 1 Robinson's Place Bacolod City, Negros Occidental
Mandaue City, Cebu
Osmeña Cebu City, Cebu
Robinson's Manila
Main Office Galleria
Secure your new 12-digit Client I.D. No. from PHCCI
Go to the nearest / most convenient Robinsons Bank branch.
Get a copy of Robinson's Bank Payment Slip and accomplish the required information/details:
A. Company Name:
PHCCI
B. Client Name:
JUAN DELA CRUZ (Member's Name)
C. Type of Payment:
01*(Please see legend below)
D. Client I.D. No:
01-0023456-7
E. Payment Details (Cash or Check Payment Breakdown):
*Note: Slips are to be accomplished in triplicate copies.
F. Mode of Payment:
Cash/Check/Debit Account
H. Payment Details (Cash or Check Payment Breakdown):
N/A
Present payment slip to tellers together with cash/check.
Once validated, MBTC Teller will give client a validated copy.
Before leaving, check & verify the copy received (Payment slip serves as proof of payment).
Legend for Reference Number (no space);
01 – sharecapital
02 – loanregular
03 – loanemergency
04 – loanspecial
05 – laonsalary
06 – loanothers
07 – savingsjunior
08 – savingsatm
09 – savingsspecial
010 – savingsregular
PHCCI offers affordable loan interest rates.
Acquire this budget friendly loan interest. Not yet a member? Attend our Pre-membership Education Seminar personally or online.